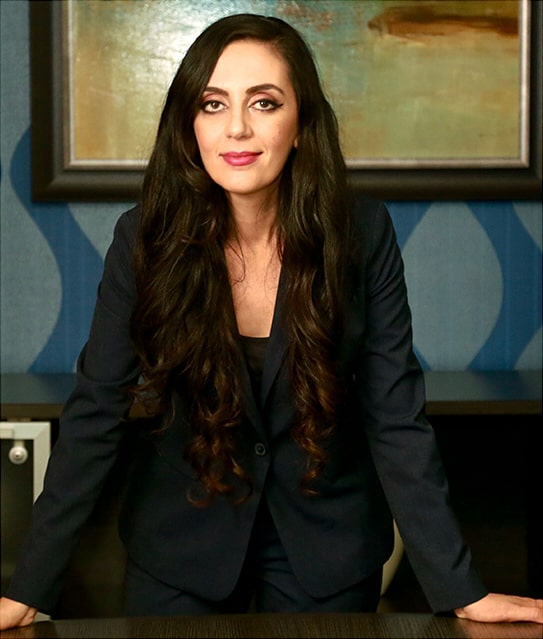 Negin Yamini is a renowned criminal defense attorney in Riverside, CA.  She handles all forms of criminal offenses, actively defending and helping the accused persons fight their charges. Some of the cases Negin handles include DUI, violent crimes, drug crimes, sex crimes, property crimes, weapon offenses, theft crimes, domestic violence, and all types of white-collar crimes. Negin has some remarkable accomplishments that include:
A hung jury and dismissal of hit and run charges against a firefighter in Los Angeles
A hung jury and dismissal of a case of assault using a deadly weapon against a nurse in San Bernardino County
Acquittal of prostitution case in a Los Angeles undercover prostitution operation
Dismissal of sale and transportation of marijuana charges filed on a member of the marijuana collective
Dismissal of theft charges against an employee in Los Angeles during the preliminary hearing
These are just some of Negin's victories. Negin has a wide record of dismissals and reduced sentences in a wide range of cases. At Riverside Criminal Defense Attorney Law Firm, we walk with our clients from the inception of the case until its conclusion. You can always count on Negin's aggressive and meticulous lawyering.
Negin undertook her undergraduate studies at the University of California in Los Angeles (UCLA). She graduated Summa Cum Laude and was nominated for the prestigious Phi Beta Kappa. Due to her remarkable academic accomplishments, she won the American Dream Fellowship. Throughout, she has demonstrated her commitment to public service and leadership. She holds a law degree obtained from the University of California. At Hastings College of Law, she won honorary recognition as a Tony Patino Fellow. This award was attributed to her academic performance and undying commitment to justice. In Hastings, Negin represented a Mongolian lady in a fight for asylum in the U.S., which earned her recognition by the Refugee and Human Rights Clinic.
In her current practice as an attorney, she portrays her deep passion and commitment to justice by actively protecting accused persons. You can count on Negin for reliable legal representation at any stage of your case. It doesn't matter how complicated the case is and how incriminating the evidence is. Negin knows how to handle every case depending on its unique facts. She demonstrates unmatched zealousness and creativity, which has earned her great respect for prosecutors and judges in Riverside, CA. Her zealousness has led to a positive outcome of many of the cases that she has handled.
Negin is a member of the acclaimed Inns court. This is an organization committed to high-level ethics and professionalism in the practice of law.
She is a member and active participant of the National Association of Criminal Defense Lawyers. This is a lead organization dedicated to enhancing due process and justice for an accused person in the U.S.
At the toughest time of your life, you need the most reliable Riverside criminal defense attorneys. Riverside Criminal Defense Attorney Law Firm has handled and won some of the most complicated criminal cases in Riverside, Los Angeles, and San Bernardino. We are recognized by peers, media, prosecutors, and judges as committed advocates for people charged with different crimes. We understand that facing criminal charges is one of the terrifying experiences you can go through. You will imagine all the possible consequences, including imprisonment. You need someone, a fighter who is on your side, to help you go through the dreaded experience.
Negin has managed to get numerous cases dismissed, including federal violations, through exhaustive pretrial preparation. She has often wrecked prosecutions through her meticulous investigations, which have revealed credibility issues with the prosecutor's evidence. Negin has continuously had a proven record of success.
Riverside Criminal Defense Attorney Law Firm is committed to proactively and aggressively help clients win their cases. We take pride in the personal attention you will receive from Negin and her professional staff. All consultations are confidential. We are available on the phone 24/7, and our locations are open and ready to serve our clients' needs.
If you have been arrested or currently facing charges for a criminal offense in Riverside, contact us. Negin and her team of investigators will fight aggressively to get the best outcome for your case. When you call us, you will get a chance to speak with one of Riverside's most accomplished and respected criminal defense attorneys. Our offices are conveniently located in Riverside.
You should not be terrified after an arrest for a crime, and neither should you panic or try to evade the law. Some people try to be smart and manipulate the court system or the officer. There are many pitfalls that our attorneys at Riverside Criminal Defense Attorney Law Firm are trained to identify. Instead of negotiating with the prosecutor or using other tactics to avoid conviction, therefore, you should contact us. We are dedicated to providing every client with reliable legal representation irrespective of the crime they have committed.
What We Will Do
If you contact us while facing a criminal charge, we will do our best to assist in several ways:
Challenge the prosecutor's evidence — After your arrest, the arresting officers and the prosecutors will do anything to gather evidence against you. We will question and counter-check the prosecutor's evidence to ensure that the prosecutor doesn't bring false evidence against you.
Evaluate your criminal case — We will examine your criminal case to identify its strengths and weaknesses. We will identify all the available options, the possible penalties, and the best action to take.
Negotiate for plea-bargains and case dismissals — You should not attempt to represent yourself, given that the prosecutor's goal is to obtain a conviction against you. With our help, you will not miss an opportunity to have your case dismissed or get a plea bargain. You should not make a prosecutor's work too easy by failing to seek legal representation.
Protect your rights — At Riverside Criminal Defense Attorney Law Firm, our main goal is to protect your rights. We know that at times the arresting officers play dirty mainly while obtaining evidence from accused persons. We will expose any unlawful evidence and negotiate with the court to exclude this evidence from your case.
Represent your best interest in the courtroom — Our firm has an extensive network of connections within the justice departments. We have a professional relationship with the clerks, judges, prosecutors, and detectives. Due to our professional relationships, we have the resources to help you get a plea bargain, case dismissal, or a reduced sentence.
At Riverside Criminal Defense Attorney Law Firm, we believe that just because a person has been accused of a crime doesn't imply they are guilty. Many people accused of criminal activities are innocent. Don't let prosecutors take advantage of you and reach out to us today.